Western Australia Senate 2014 climate scorecard


Please share this scorecard with your friends in Western Australia.
Parties were scored on climate, renewable energy, coal and gas policies. They were sorted according to their preferencing into three groups - those whose preferences flow to the Greens, those whose preferences flow to the ALP and those whose preferences flow to the Coalition or to climate change denying micro-parties.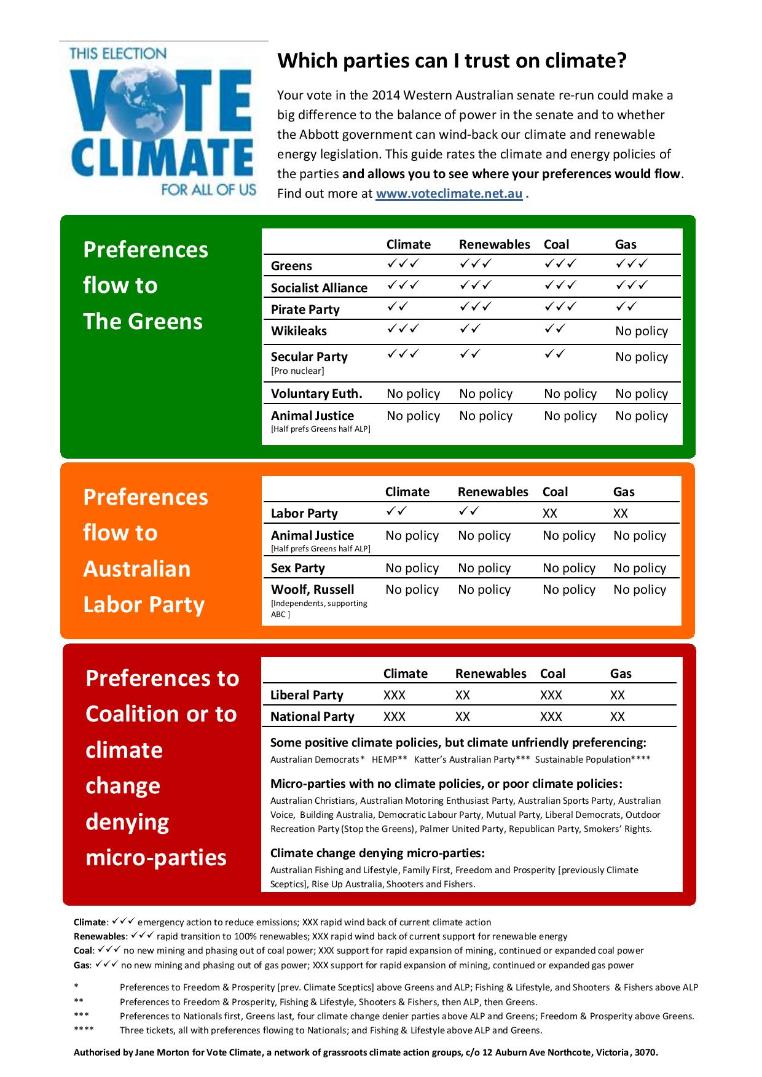 Victorian senate 2013 - which parties can I trust on climate?
A guide to the Senate for Victoria in 2013 is below. Preference deals vary somewhat from state to state, so if you are outside Victoria, check out the excellent guide to the smaller parties at PrecariousClimate.com and find out how the preferences of your chosen party are allocated at BelowtheLine.org.au.
This election, dodgy deals between some of the smaller parties mean that your preferences could end up in places you might not expect. Our Victorian Senate preferences guide rates parties (and one independent candidate grouping) on their climate and energy policies and lets you know if you can trust their preferencing and vote 1 above the line.
Parties scored on climate and two preferencing criteria: (i) major party preferencing (Greens above ALP above Coalition) and (ii) minor party preferencing (Greens and ALP above parties opposing action on climate change). "M" means mixed.
Vote 1 above the line for one of these. Positive climate policies, climate friendly preferences.

Climate & energy policies

Major party preferences

Minor party preferences

Greens

üüü

ü

ü

Strong policies and climate friendly preferencing.

Pirate Party

üü

ü

M

Fairly strong policies. Preferences OK for Greens, but DLP preferenced ahead of the ALP.

Weaker climate policies, OK to vote 1 above the line. Climate friendly preferences.

Grp T (Toscano) (Vic)

ü

ü

ü

Some positive policies but climate action is not a priority. Preferencing is OK.

Labor Party

ü

ü

ü

Positive climate and renewables policy. Very weak on fossil fuels. Preferencing is OK.

Secular Party

ü

ü

M

Some positive climate policies but pro-nuclear. Preference Greens ahead of Liberal Democrats ahead of ALP.

If you want to support these parties vote below the line.
Some positive policies, but climate unfriendly preferencing. Be sure to number every box!

Wikileaks

ü

ü

X

Some positive policies but climate action is not a priority. Preference Liberal Democrats above Greens and ALP.

Stop CSG

ü

ü

X

Some positive policies but climate action is not a priority. Preference Family First and Aust First above Greens and ALP.

Aust. Democrats

ü

M

X

Some positive climate policies. Support carbon tax but not ETS. Split ticket with 1/2 Greens, Coalition, ALP and 1/2 Greens ALP, Coalition. Preference Family First above Greens and ALP.

Aust. Independents

üü

X

X

Some very positive climate policies, but preference Coalition above ALP and climate unfriendly parties above Greens & ALP.

These parties have no climate policy & climate unfriendly/mixed preferences:

Animal Justice, Bank Reform, Australian Sex Party, Bullet Train for Australia, Drug Law Reform, Help End Marijuana Prohibition, Republican Party of Australia, Senator Online, Socialist Equality, Stable Population.

The rest? Definitely avoid all of them!

Australian Christians, Australia First, Australian Fishing and Lifestyle, Australian Motoring Enthusiasts, Australian Voice, Building Australia Party, Country Alliance, Democratic Labour Party, Family First, Fishing and Lifestyle, Katter's Australia, Liberal Democrats, Liberals, Nationals, No Carbon Tax Climate Sceptics, One Nation, Outdoor Recreation Stop the Greens, Palmer United, Rise Up Australia, Shooters and Fishers, Smokers Rights,